What can we find for you?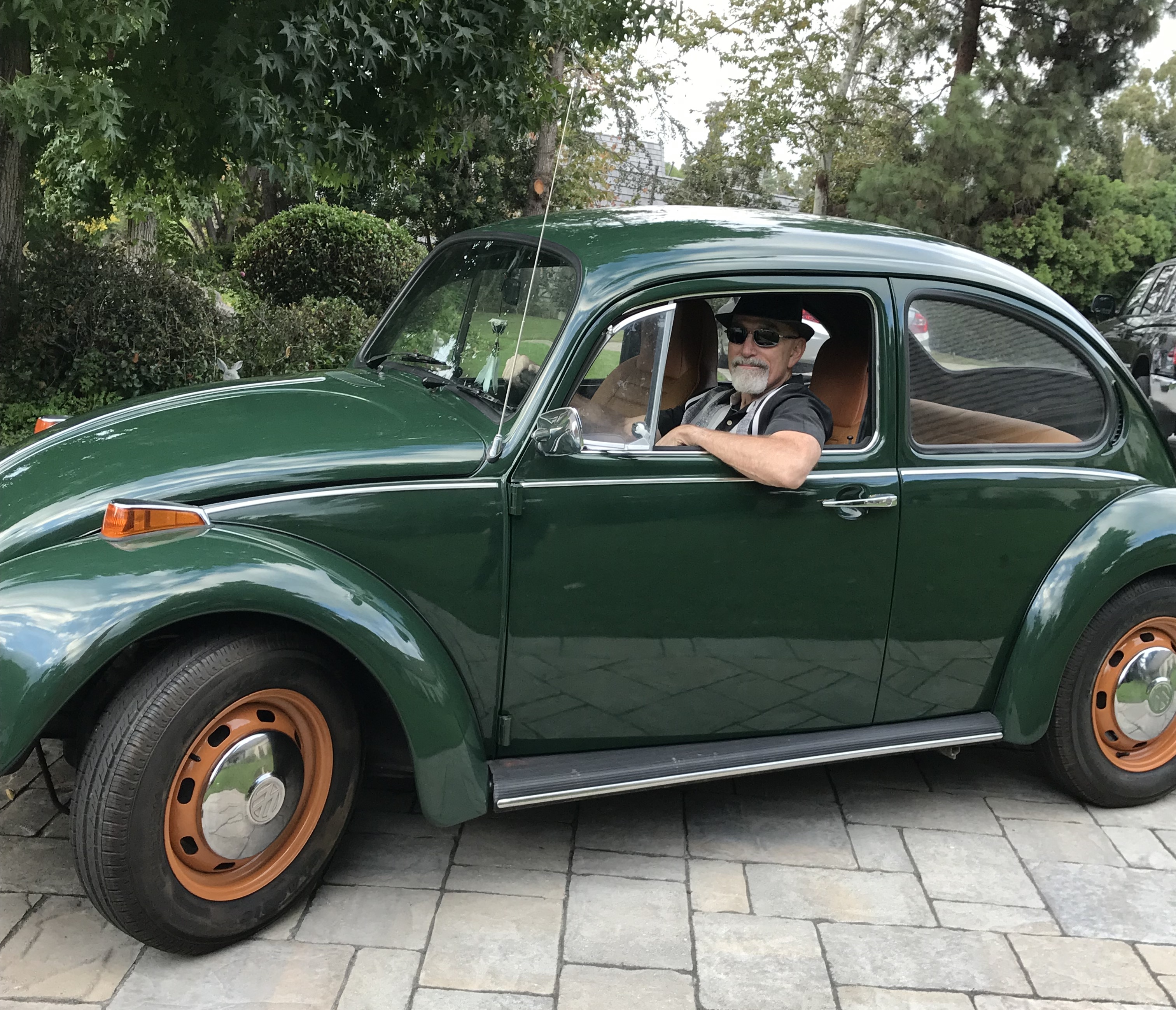 HUG A BUG AND HELP KIDS' TURN SAN DIEGO DRIVE KIDS TO SUCCESS!!
Stan and his 2 sisters grew up with parents that each divorced twice. They moved a lot and had to change schools many times. Making new friends became challenging for all of them. As Stan and his sisters grew up, they all found themselves repeating family patterns. All three of them got married and divorced. "On her third marriage, my sister Angelica finally found a good guy. Thomas was kind and caring. As a gift to Angelica, he bought her a 1974 Volkswagen Superbeetle. She loved it and proclaimed that the car gave her the freedom and independence that she never had as a child."

After Thomas passed away, Angelica needed a new roof on her home and she decided to sell her beloved car. Stan bought the car. He spent hours refurbishing it, changing the color from white to hunter green, Angelica's favorite color. The interior was changed to butterscotch, a color that reminded Angelica of the candy she enjoyed as a child. With new tires, a shiny new coat of paint, a beautiful interior and a fully rebuilt engine, Stan happily returned the car to Angelica as a birthday present. She was flabbergasted! Angelica was so happy to have her car back in pristine condition! It reminded her of her youth, her beloved Thomas and all their happy years together. In January of 2017, Angelica passed away. "I think she had reached a level of peace and contentment with her life. The car returned to San Diego and I've been keeping it maintained and made a few more improvements. I always get a smile and a thumbs-up from people who see me driving by. I feel like I'm closer to my sister for being in it, tooling along the roads."

"In honor of my sister and the challenges we experienced growing up as children going through divorce, I've decided to donate this lovely Volkswagen Superbeetle to Kids' Turn San Diego so they can raffle it off to a loving home, to people who will understand its history and its meaning. This cycle of family disintegration has got to stop somewhere, and it has to start with a focus on the kids, not the parents. That's why I support Kids' Turn San Diego. It's the only program I've ever seen that does just that, to ensure that there's a good chance the kids who suffer through the discord and trauma of their parents don't end up repeating the cycle of family dissolution. My hope is that the funds raised from this car will help kids avoid the difficult path that my sisters and I had to trod. My sister would love that her car will give new meaning for many others.

Kids' Turn San Diego is changing family's lives by showing them how to better communicate and love their children through separation, divorce and military transitions. They are helping kids be happier and helping parents understand how to be good parents that are divorced. Kids' Turn San Diego is creating brighter futures for children and so can you! Make a donation today and be entered to win my sister's 1974 Volkswagen Superbeetle. Hug A Bug and Help Kids' Turn San Diego Drive Kids To Success!!!"