What can we find for you?

Most Recent San Diego County Public Health Order
Stay up-to-date with the most recent public health orders from the County of San Diego.
Hub for local coronavirus information from the County of San Diego.
Coronavirus fact sheets and infographics in multiple languages.
Live Well @ Home by Live Well San Diego
A community resource for caring for your mental and physical health while staying at home. Includes links, ideas, and resources for physical fitness, mindfulness, social connection, education and culture.
Learn how to access community, health, social, and disaster services. Dial 211 for free, confidential help available in more than 200 languages.
Resources and services for parents and caregivers.
COVID-19 Positive Recovery Stipend Program
Apply for a one-time stipend of $1,000 from the County of San Diego for employed individuals who are confirmed COVID-19 positive and not otherwise eligible for paid time-off or State unemployment benefits.
Centers for Disease Control (CDC) Coronavirus Disease 2019 Information
Learn more about coronavirus, how to protect yourself, what you should do if you are sick, and more.
Coronavirus: A Book for Children
A free illustrated digital book explaining the coronavirus for elementary age children.
Who Do I Want to Be During COVID-19?
Ideas for moving from fear to learning to growth during challenging times like the coronavirus pandemic.
Comprehensive Resource Guide from SDSU
This resource guide offers assistance with a variety of topics related to life under COVID-19, including employment assistance, food resources, healthcare, housing, public utilities, and more.
Senior's Guide to Mental Health During COVID-19
Stay healthy and connected during the pandemic.
Informational posters for sharing COVID-19 safety tips.
Free COVID-19 Testing Center in Chula Vista
When: Sunday through Thursday, 12:30pm – 8:00pm
Where: South Chula Vista Library – 389 Orange Ave. Chula Vista, CA 91911
Time: COVID-19 test takes about 5-10 mins and the results come back in about three days
Rental and Utilities Assistance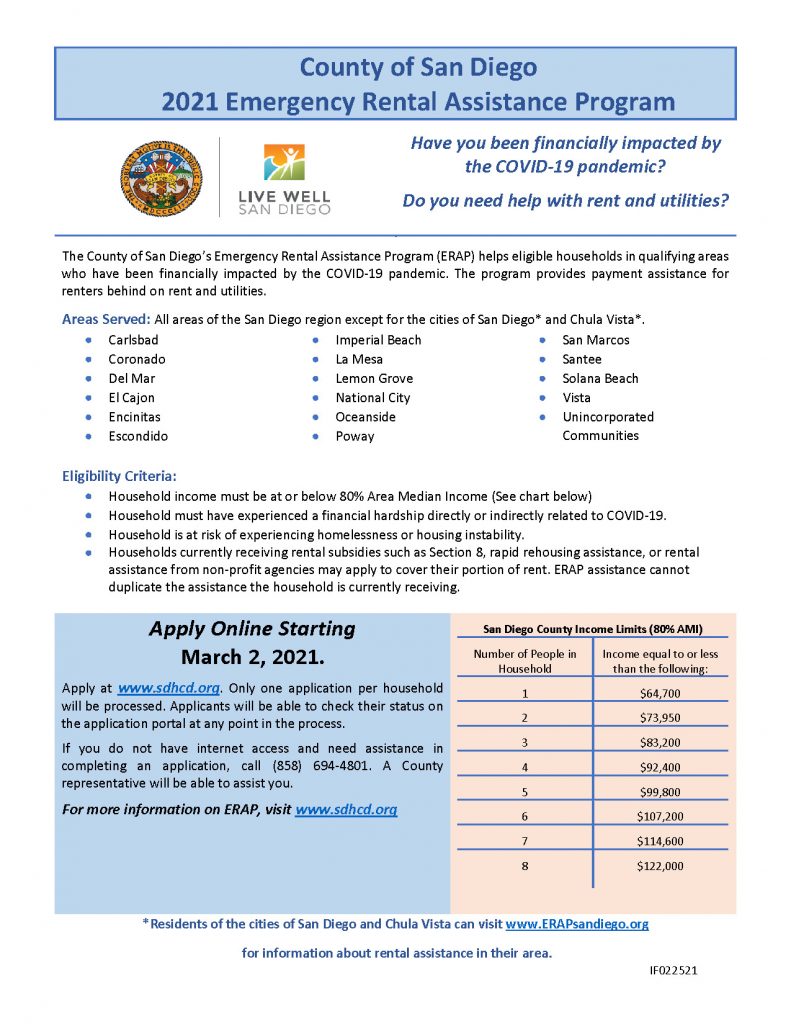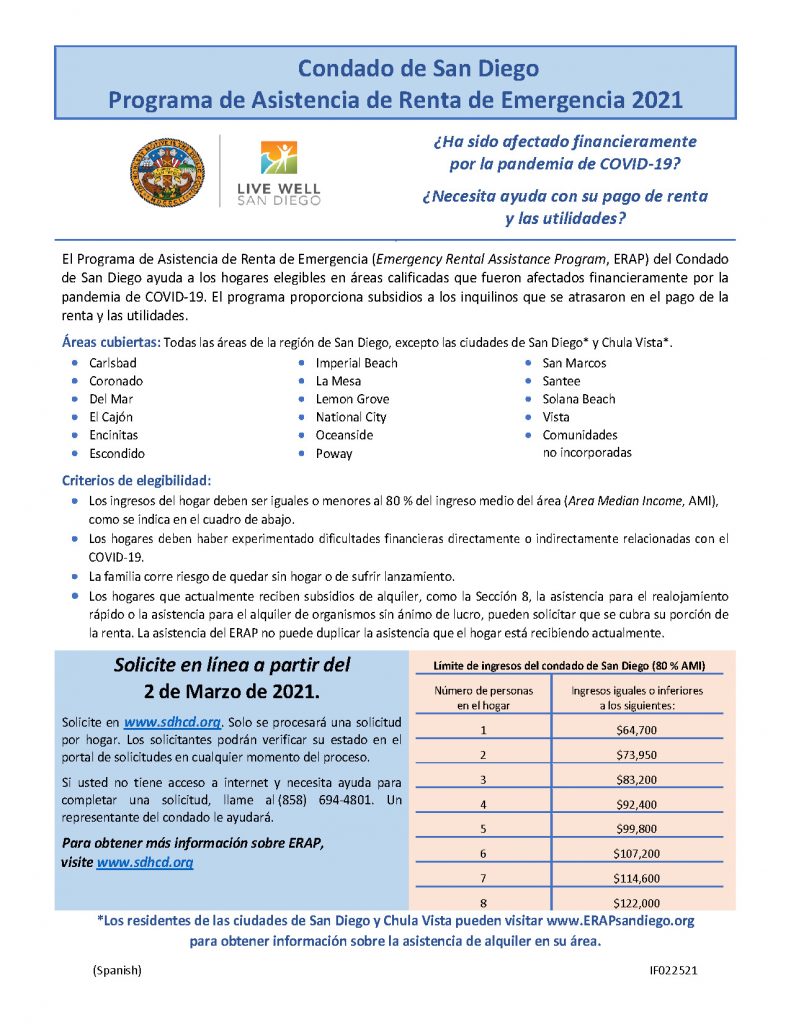 Community Sector Telebriefings by County of San Diego
Great Plates Delivered Program for Older Adults
The Centers for Disease Control and Prevention (CDC) recommends that everyone 6 months old and older get a flu shot every year.
Upcoming Courses & Opportunities from Live Well San Diego