What can we find for you?
What are children and teens really thinking?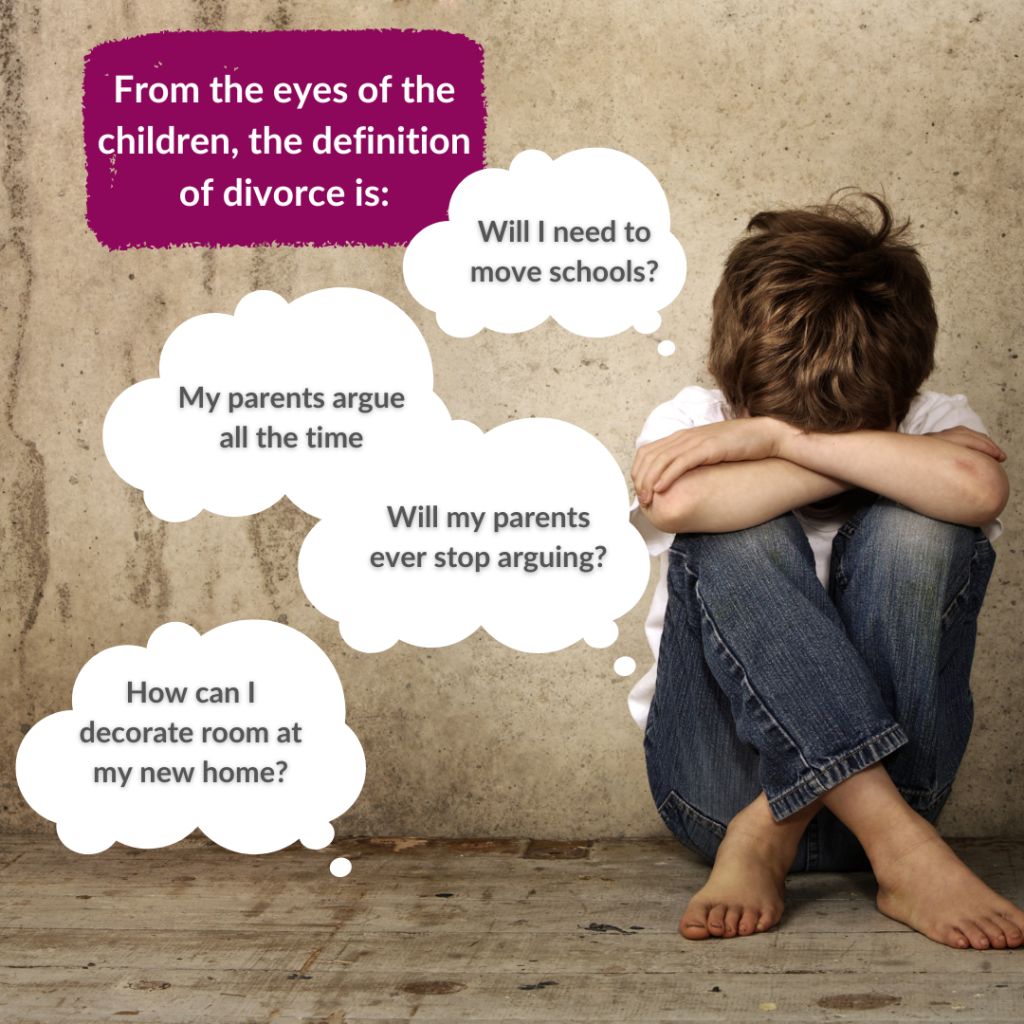 Divorce is the break-up of two people who were in an intimate married relationship. At Kids' Turn San Diego, the definition of divorce is the break-up of two parents who brought beautiful children into this world. From the eyes of the children, the definition of divorce is my parents argue all the time, will I need to move schools, how can I decorate my room at my new home, and will my parents ever stop arguing and fighting. 
As March 18th is fast approaching, I think back three years when we were told to quarantine, when my daughter moved home from college, and when Kids' Turn San Diego quickly transitioned to remote working and virtual programming. Thank goodness for zoom and the internet! As the Executive Director, I lead our organization through unprecedented times and lived by the motto of "we're building and flying at the same time". We didn't skip a beat and continued to serve every parent, child and family that requested our services. Many things changed for all of us, but for me, one change has provided me with the opportunity of really understanding the challenges of divorced families. I, by the way, grew up in a divorced family so I know what it was like being an 8-year-old child transitioning from one home to two, changing schools and eating lots of macaroni and cheese. Fortunately, my parents figured it out quickly and did it well. They had conflict but they didn't put me and my sister in the middle and they didn't ask me or my sister to deliver child support checks or messages. They didn't talk with us about court or money, and for the most part, were pleasant with each other. My parents both attended our events and shared the celebration times and never gave my sister or me any reason to think that the failure of their marriage was our fault.
But, over the past three years, as the Executive Director of Kids' Turn San Diego, I have served as a Behind the Scenes staff member of the parent groups of our Family Workshops for Separated and Divorced Families. To date, I have personally been Behind the Scenes during all four weeks of 34 Family Workshops. I have observed transformation! When you hear a parent at graduation tell us that they are listening to their children more and giving them undivided attention, or things like "I learned to choose peace over power", "I learned to respond instead of react" or "I learned that I have no control over others, I can only control my own words and behaviors", it warms your heart. These parents have learned new skills that resulted in a personal transformation that will make them better parents and better people. I watch the graduations and smile knowing that the children of these parents will be blessed with parents that did it right, like my parents. 

But, then I hear one of our Group Leaders and their statement is profound. "Although not always stated by the children in the program, from their perspective, when parents argue and fight over custody, the children perceive their parents' behaviors as fighting over them. They begin to see themselves as 'the conflict' and begin to believe that their parents' divorce is their fault."
What does this statement really mean? When parents battle and fight over the custody of their children, which days they will be with one parent or the other, the battle and the fight is over your children, and your children see themselves as the cause of the fight. If your children didn't exist, there wouldn't be a battle or a fight. Is this the message you want to be giving to your children? They do not care which home they are at more. They want to see both parents, they want to be happy children who transition from one home to the other with parents that are pleasant and nice to them and each other. They say, perception is everything. I really hope you will think about this! Do you really want your children growing up perceiving and believing that they are the cause of your conflict, divorce and unhappiness? I hope not! If you haven't attended a Kids' Turn San Diego co-parenting program, we invite you to invest in yourself, your family and your children. If you have and find yourself still angry and experiencing conflict, join us for a Continue the Conversation Class or come back to the program. We are never too old to learn and happiness can be part of all of our lives. As an adult child of divorce, and with all due respect, please get along with our co-parent and know that if you adjust well and move through life with ease, your children are more likely to adjust well. When you choose peace over power, your children get to feel happier!
Every month at Kids' Turn San Diego, we host a Family Workshop for Separated and Divorced Families. As a part of the workshop, children are given the chance to express their thoughts and feelings through artwork.
For our blog post this month, we would like to share the wise words of a 5th grader named Emily and her optimistic perspective on life. Emily's father was abusive to her mother. She grew up never meeting him and having a mother who struggled with unresolved PTSD. Despite the trauma that has happened in Emily's life, she has learned to be resilient and, more importantly, full of joy. Emily's words are powerful and relevant even if you're not a 10-year-old in school! We hope her story and words uplift your spirit and bring positivity into your life!
In my life I have had moments where I want to give up, but then I realized if I don't give up and just think positive, I can get it done faster. Lots of times, I have had my moments where I say "I can't do this" but then I tell myself "NO, I CAN' do this. When you tell yourself you can't do something you are thinking negatively, which is not a good thing to have in your life and it can cause many problems. When you think positive and tell yourself "You can do this.  I'm not giving up.", good things will happen in your life. It is good for you and your brain to be able to learn new things without being scared or wanting to give up.  And that's why you shouldn't think negative – just think positive.
Why you should be positive is because it will make your life better than it already is. Like if you are going through a hard time and saying I can't do this.  Well then you are not thinking positively which you need to do. 
If someone is bullying you at school, or telling you they don't want to hang out with you anymore, don't just walk away and cry. Just say, "I'm a valuable and an important person and worthy of the respect of others." Because if anyone is going to talk bad about you or be mean to you, it doesn't matter. If you have just one great friend, that's okay because one friend is better than lots of friends.
If people in the real world call you weird, or say you can't do this because you have a disability or you're a different gender, just ignore them because you can be anything you want no matter what because the person you are makes you special in your own way even if people don't see it. 
Just know being positive about things can help you a lot and so can believing in your beliefs.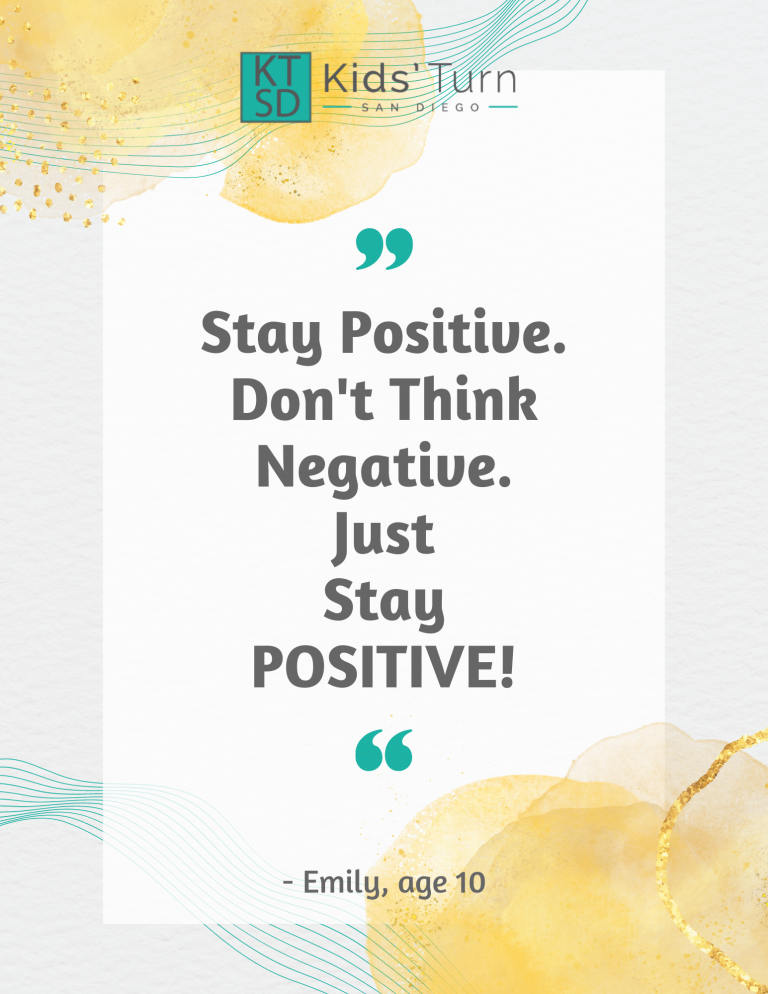 Earlier this month, on March 2nd, we celebrated World Teen Mental Wellness Day. However, teen mental wellness is something that requires more attention and care than just one day. Taking care of our teen's mental wellness means taking the extra effort to build a genuine, healthy relationship with your teen!
We all know that the teen years can be some of the toughest times in parenting. With changes in body, hormones, social relationships, and a desire for independence, it's easy to let a wall be built between us and our teens. Though they may seem resistant, our teens need us the most during these years to ensure they have a trusted and supportive adult who can help them figure out such turbulent times.
Here are four ways to build a healthy relationship with your teen:
1. Be respectful of their growing independence.
During the teen years, your teen may give you attitude, argue with you more frequently, tell you that "you don't get it", and overall make it very difficult to do your job as a parent. You may be feeling like you've failed as a parent since your teen has changed from the child you knew before. This struggle is normal! Teens are simply exploring their independence and trying to establish themselves as their own person and it is not always a pretty transition.
As their parent, it helps to be mindful of this new chapter of self-discovery. Don't make fun of your teen or discourage them when they are exploring different parts of themselves. Encourage them to be curious and confident! It may be anxiety-provoking to watch your child make mistakes, but sometimes that is the best way to learn. Your teen will develop good judgement by making mistakes and learning from them, so grant them the autonomy and privacy to do that. Of course, you don't want your teen to be participating in unhealthy hobbies that can mentally or physically harm them (such as drugs and underaged drinking) which brings us to the next point.
2. Establish clear boundaries & values in the family
Although your teen is becoming a young adult, you still need to remain the main adult and point of guidance for your family. Without setting any boundaries or values for your teen, too much freedom can cause your teen to experience confusion about what to do with their independence. Instead, learn to balance giving your teen space to explore while calmly establishing boundaries. This can look like, during dinner saying, "I really want to spend time with you. Let's both agree to keep our phones off and hang out as a family!" or "I want to make sure you're safe, so let's set a curfew for 10pm. If you need to go past that, you'll need to talk to me ahead of time. Is that okay with you?". When setting boundaries with your teen, make sure to explain why the boundary is needed and if it is value based, briefly explain why the value is important to you and your family (such as your need to know your teen is safe). Asking your teens to participate in boundary setting and rules is encouraged. You will find teens are more likely to follow the rules and boundaries if they have a part in setting them.
3. Be authentic and genuine.
At this age, teens appreciate and need to see when people are authentic and genuine. This means admitting when you are unsure of things or make a mistake. You can apologize to your teen when appropriate and show them that it is okay to not be perfect. It is even ok to "take a time out" if you are emotional about a topic or situation. It is ok to say, "I need to take a time out here. Give me 5 minutes and let's get back to our conversation." This allows your teen to know that we are all still growing and learning. When people fail or make a mistake, the right thing to do is to acknowledge it and then learn from it. Show your teen that you are proud of them and okay with the fact that we are all "works in progress", and there is no shame about that!
4. Be engaged & interested in your teen's life.
More importantly than anything else, do not let the hardships of the teen years ruin the love between you and your teen. Continue to show them that you care with simple actions such as asking them about their day, looking for things to compliment them on, spending quality time together or, no matter how much you dislike it, listen to their music with them. Teens love coffee, boba, frozen yoghurt, video games, watching TikTok videos, etc. Find time to connect with your teen so they know you are a resource and someone available to talk to about anything! When you are talking with your teen, it can be easy to slip into unsolicited advice that may make them feel annoyed. If your teen does talk with you about a friend or themselves, listen and do not try to problem solve. LISTEN and do not give advice. If you want to give advice, ask if they want your advice before you share. Do not shame them if they approach you with an issue and respect the decisions that they choose to make. Offer guidance if they want it, otherwise, JUST LISTEN. It is important that parents are emotionally observant and present in a teen's life. Make time to hang out with your teen and show them that you are always there to support not shame them!
Remember, as parents, we play a large role in getting our teens through the difficult transition from a being a child to a young adult. Without guidance, your teen can feel lost and confused which can lead to issues in their mental wellness. While parents can't protect their children from everything that comes their way, we can make sure our teens know that they will always be loved and supported! Take the first step in building a lasting relationship with your teen today, and if you're not sure where to start, Kids' Turn San Diego is here for you!
The term "Love Language" was developed by Dr. Gary Chapman and he believes that learning someone's love language is essential to connecting on a more meaningful level.
Do you ever feel frustrated when your children squirm from hugs and kisses? Or, maybe you shower them in compliments and they seem annoyed? There is nothing wrong with showing love and support in this way, but for some children it may make them uncomfortable. If this is your child, THEY ARE OKAY! In reviewing Dr. Gary Chapman's "Love Languages" for adults, we see some similarities for how they apply and are adapting them to parent-child relationships. The "Love Languages" are words of affirmation (compliments), quality time, receiving gifts, acts of service and physical touch. This Valentine's Day, we challenge you to notice how your child responds to your typical way of showing love and, if you notice they may not like your way, we encourage you to try some of these ideas and see how it goes.
Do you have a child that asks, "did I do that right? or is this right? or did I do a good job?" Or maybe they glow with joy whenever you compliment them? Do you find your child praising you? If you found yourself saying yes to any of these questions, then maybe your child needs words of affirmation!
Your child may receive love and support best when you communicate through words of encouragements, praise and gratitude. Examples may be "you did a great job!", "thank you for helping me with cleaning the house!" or "I am so lucky to be your parent!". Here are a few ways to offer words of affirmation to your child:
Slip a sweet note in their lunchbox. (It could be as simple as a smile face on their napkin)
Praise them both privately and in front of others. (Be mindful not to embarrass your child)
Notice & acknowledge their efforts. (Say things like, "I like how you worked so hard on your homework today")
Call them by a nickname they like. (Remember not to embarrass them in front of others)
In our programs, we hear from children all the time that they want their parents to pay attention to them. Do you have a child that interrupts you a lot? A child that likes to show you what they are doing? Do they ask you to join them when they're playing? If you found yourself saying yes to any of these questions, then maybe your child needs more quality time with you!
Your child may receive love and support best when you give them your undivided attention. You do not have to be with them 24/7, but even 10 minutes off of your devices may make a huge difference for children needing quality time. Here are a few ways to give the gift of quality time to your child:
Dedicate and commit to spending on-on-one time with your child. (Read a book, do a puzzle, play a board game, teach them how to ride a bike, cook a meal together, whatever it is, remember to have the time be age appropriate)
Turn off your phone and leave it in another room while helping with homework
Go on a walk together
Take them with you when you run errands and make it fun. (Remember, you are teaching your children how to be adults some day so making grocery shopping fun can be creating a budget together and sticking to it or asking your child to choose the vegetables or fruits to buy. Giving choices works here too!)
Do you have a child that cherishes every gift they've received? Does your child not ask for more things, but glows when you surprise them with a gift? Maybe your child takes the time to unwrap a gift they're given? If you found yourself saying yes to any of these questions, then maybe your child sees love and support through receiving gifts!
Your child may receive love and support best when they receive physical tokens that express your love to them. Receiving gifts does not mean your child only cares about the material object or that you should buy them things. It means that they cherish the fact that you spent time thinking about them and choosing a gift that would make them happy! Here are a few ways to support your child if they like knowing you are thinking about them:
Create a chore chart with your child. (Put stickers or draw stars on the chart when they accomplish the chores. This can also work with homework, daily hygiene or whatever your hopes and expectations are for your children. Get creative, post it on the refrigerator or the wall and catch your child doing good things, then reward them with the sticker or star. Words are not necessary because if your child likes it when you spend time thinking about you (receiving gifts), they'll notice the chart!
Keep a treasure chest to surprise them with occasionally. (This could be a box, container, hope chest, whatever you have. Put baby pictures in there, a few current pictures that you want to treasure, art work, school projects/tests, a napkin or something with a logo on it that reminds you of a place you and your child went or a place you hope to take them some day)
Leave a sweet note or pick a flower to put in their lunchbox
Value any gift they give to you! (Whether it's a drawing or a project, tell them how much you like it by hanging it up. Don't worry if it doesn't match your home decor, everyone will notice it and you will be able to proudly share that your child made it)
Does your child like to ask for help when you are busy, even with things they know how to do on their own? Does your child like it when you make their lunch instead of telling them to eat the free lunch at school?  Does your child get upset when you say you are listening, but you are on your phone or laptop? If you found yourself saying yes to any of these questions, then maybe your child is at their best through acts of service, meaning actions are louder than words!
Your child may receive love and support best when they see you do what you say and you say what you mean. You do not have to do every request your child asks (as fostering self-reliance is important), but an occasional yes to their asks for help can go a long way. Here are a few ways to implement acts of service with your child:
Even though you know your child can do something independently, if they ask, stop what you're doing and help them. (As you are helping them, remember to praise and encourage throughout and say things like, "I know you could have done this yourself but I'm happy you want to do it together". Comments like this will go a long way, especially as your children grow into teens and young adults. They'll know you are a parent they can count on and who prioritizes them)
When they accomplish something, make their favorite meal as a reward or take the time out of your busy schedule to show up and be present. (When your child invites you to something, show up. Put work and other priorities aside and show up for your kid. They will notice!)
Teach your children life-work balance. (When you child does something great, like get a 100% on a test, reward them by giving them a day off from chores or step away from you busy schedule and bake a cake to celebrate together)
Bring them snacks or water while they're doing their homework. (Parents so often think homework time needs to be uninterrupted or their child will get distracted. Bringing in a snack or drink can be a silent act. Just think, one day you will be working at home completely focused and your child may bring you a snack or drink. How cool would that be?)
Does your child love to play with your hair or really like it when you brush their hair? Does your child ask to be held or cuddled? Does your child like to practically sit on your lap or as close as possible, even though you may think they are too old for cuddles or that much closeness? If you found yourself saying yes to any of these questions, then maybe your child sees love and support through physical touch!
Your child may receive love and support best through affectionate, parental warmth! When we think of physical touch in relation to our children, most of us think about hugs and kisses. Here are a few ways to offer physical touch with your child:
Cuddle and watch a movie together. (Add some popcorn for added fun)
Give high fives or create a special handshake. (Children love special handshakes!)
When you notice your child may be feeling sad or upset, ask your child if they need a hug. (If they say no, ask what they do need)
Give hugs/kisses when they leave for school or to say goodnight (But remember, not all children like physical touch so don't push it on them. Ask permission and if they say no, figure out which other way of showing love and support is best for your child. Also remember, not all children are alike. Some may like hugs and kisses and others may prefer quality time)
Remember, children are unique and their way of receiving love and support is unique to them. We encourage you to pay attention to how your child reacts when you show them different ways of love and support and then try out the different suggestions. If your children are old enough to have a conversation, share this blog with them and figure it out together.
No matter the way, Happy Valentine's Day!
Merry Mindfulness through the Holidays
The holiday season can be a stressful time when it comes to traveling, coordinating with family, and, if you're a co-parent, figuring out how to share the kids for holiday fun. With the holidays coming up, you may experience heightened conflict between you and your co-parent and a stir of emotions and stress. This year, let the holidays stay merry and bright! Read on to learn how to manage any difficult feelings that may come up through mindful parenting strategies.
Make Spirits Merry & Bright!
The holidays are meant to be a joyous time; allow yourself to enjoy it! Although a separated family situation can cause conflict, know that you have control over yourself and the ability to make choices regardless of your co-parent! Choose HAPPY! Here are some ways you can have a jolly good holiday season through mindfulness techniques:
1. Balance the should's with your needs
Do you ever catch yourself thinking, "I should be with my kid not them", "I should have gotten my child a better gift.", or "I shouldn't be making so many mistakes."? These "should" statements are cognitive distortions that impose heavy expectations as concrete rules for ourselves. Thinking in "should's" can lead to resentment, guilt, and burnout.
This holiday season, if you catch yourself thinking in "should's", observe how making this expectation is affecting you. Know that you are human and have limitations. No one is a perfect parent. Take the time to sit with this and make space to meet your needs instead of expectations. By setting realistic goals and caring for yourself, you will be stronger to care for others!
2. Practice Self-Compassion
When your child is struggling or in pain, your immediate response is probably to see if you can help in some way. When you are struggling or in pain, would you want the same? This holiday season, there may be times where you feel lonely, sad, or angry. When these emotions come up, practice self-compassion! Think, "how do I recognize what is going on for me" and "if my friend or my child told me that they were feeling the way I am, what would I do for them to make them feel better?". Take your answer and do it for yourself. You deserve the same love you give to those around you!
During the rush of the holidays, it's easy to just go, go, go and be completely unaware of what is happening around and within you. Stay attentive and receptive to your child's and your own emotions. The holidays bring up a load of emotions, and it may be so overwhelming that they are difficult to identify. A great practice with your child is to begin identifying the emotions they are feeling. Check in throughout the holiday season to ask them how they're feeling. Try to name the emotion together, why this emotion was brought up, and what they want to do next. Likewise, you can ask yourself these questions. Allowing yourself to be open to emotions with your child and yourself can foster a great sense of security and peace.
By developing your own awareness for the gifts and blessings in your life, your children will follow suit! The holiday season is a wonderful time to begin incorporating gratitude practice into your everyday life. Gratitude can sound like, "I'm so thankful we get to spend some time together!", "I'm blessed to be alive and healthy today!", or "I am so lucky to be a parent". Make the gratitude concrete by sitting with your children at dinner (or the end of your time together) to think of one thing you were grateful for that day. You can even create a gratitude jar where everyone writes down something they're thankful for and add it into a jar. Then when a negative headspace arrives, you or your child can open the notes and remind yourselves of these moments! Gratitude is simple but has great effects! The more you and your children practice gratitude, the more you'll find yourself noticing all the things to be grateful for.
5. The Gift of the Present
There is no better gift than the present! It is so easy to fall into the trap of wishing for the simpler days of the past, or anticipating the events of the future. While it is good to take moments to reminisce and plan ahead, don't let the present slip away! Practice being fully present in your current space, especially when you have the gift of being with your child. Rather than planning out what you need to do next, stop and think about your five senses. When you're with your kid you can ask them what they hear. Maybe it'll become your next favorite holiday song! Ask what do you smell. Are there delicious baked goods around or a favorite meal? Ask what do you see. Enjoy the sight of beautiful holiday décor! Ask what do you taste. Maybe a delicious homemade meal? Ask what do you feel. Embrace and cherish a warm hug with one another! It is great to practice this sense of presence through your five senses. Your children will be grateful once they grow up, smell the scent of cookies, and think of the times you've spent together.
We hope these tips help you have a mindful and merry holiday season! Happy holidays from our family to yours!
Understanding ADHD: Walk in My Shoes and Gain Perspective on the Most Common Myths
October is known for Halloween festivities, but did you know that it is also the official month for Attention Deficit/Hyperactivity Disorder (ADHD) Awareness? Many children and adults live with ADHD, as it is very common. This poem tells it all:
---
Take my hand and come with me,
I want to teach you about ADHD.
I need you to know, I want to explain,
I have a very different brain.
Sights, sounds, and thoughts collide.
What to do first? I can't decide.
Please understand I'm not to blame,
I just can't process things the same.
Take my hand and walk with me,
Let me show you about ADHD.
I try to behave, I want to be good,
But I sometimes forget to do as I should.
Walk with me and wear my shoes,
You'll see it's not the way I'd choose.
I do know what I'm supposed to do,
But my brain is slow getting the message through.
Take my hand and talk with me,
I want to tell you about ADHD.
I rarely think before I talk,
I often run when I should walk.
It's hard to get my school work done,
My thoughts are outside having fun.
I never know just where to start,
I think with my feelings and see with my heart.
Take my hand and stand by me,
I need you to know about ADHD.
It's hard to explain but I want you to know,
I can't help letting my feelings show.
Sometimes I'm angry, jealous, or sad.
I feel overwhelmed, frustrated, and mad.
I can't concentrate and I lose all my stuff.
I try really hard but it's never enough.
Take my hand and learn with me,
We need to know more about ADHD.
I worry a lot about getting things wrong,
Everything I do takes twice as long.
Everyday is exhausting for me…
Looking through the fog of ADHD.
I'm often so misunderstood,
I would change in a heartbeat if I could.
Take my hand and listen to me,
I want to share a secret about ADHD.
I want you to know there is more to me.
I'm not defined by it, you see.
I'm sensitive, kind and lots of fun.
I'm blamed for things I haven't done.
I'm the loyalist friend you'll ever know,
I just need a chance to let it show.
Take my hand and look at me,
Just forget about the ADHD.
I have real feelings just like you.
The love in my heart is just as true.
I may have a brain that can never rest,
But please understand I'm trying my best.
I want you to know, I need you to see,
I'm more than the label, I am still me!!!!
Author Unknown
---
This poem speaks the truth about people living with ADHD. I hope you will always remember the last line of the poem, "I'm more than a label, I am still me!!!!" because ADHD does not define a person. Instead, ADHD is a behavioral condition that can make everyday routines and tasks more challenging for people who have ADHD. By the way, if you had it as a child, you probably still have it as an adult but hopefully you learned strategies over the years to manage your energy and have put systems in place to keep you focused and organized. Here are some tips for helping children manage ADHD challenges.  
1. Provide clear, consistent expectations, directions, and limits. Children with ADHD are most successful when the adults in their lives are consistent. In divorced families, there are oftentimes different rules and structure at each home. For example, one parent may have bedtimes, homework time and dinner time, while the other parent may avoid rules and structure and go with the flow when their children are with them. Different rules in different houses can be challenging for all children in divorced families but most children easily adjust and transition from one set of rules to the other. However, for children with ADHD, the adjustment and transition may not be so easy. If your child has ADHD, we encourage you to read the poem again and take a walk in your child's shoes. Children with ADHD respond well to structure, so rules and charts are a great tool for success. Break activities down and give one direction at a time. Praise your child and encourage them to be successful. Charts with stickers for success are fun for elementary age children and, believe it or not, even older children like to gain rewards, so be creative with your older children.
2. If a doctor has prescribed ADHD medications, follow the doctor's order. Children who have been prescribed ADHD medications are most successful when their medications are taken as prescribed. In divorced families, oftentimes parents are not on the same page about ADHD medications. What does this look like? Here's the visual. . .our child gets their medications during the first and third weeks of the month when they are with me but they do not take the medications on weeks two and four because their other parent doesn't believe in giving medications, and probably doesn't believe in the ADHD diagnosis.  As with all other medications, ADHD medications need to be given consistently to work effectively and to avoid negative effects to the child. The medications are prescribed to help a child focus. If you don't think your child needs the medications or you don't believe in the diagnosis, we encourage you to read the poem again. Is this your child?  If co-parents disagree, talk to the doctors and get on the same page. It is not fair, nor is it healthy, for your child to be on and off medications.
3. Boost your child's confidence. Children with ADHD may receive lots of negative feedback from others in their lives, including teachers, parents, coaches, and peers. Every negative comment hurts their heart and may negatively impact their self-esteem. Read the poem again and share it with everyone in your child's life. Your child deserves to be understood and treated with respect at all times. As your child's parent, ensure your child has positive interactions and hears the word "yes" way more than they hear "no". Spend time with your child and engage in activities that strengthen and build your child's self-esteem. Schedule fun outings with your child, praise your child for big and small successes, acknowledge your child's strengths, and tell your child how much you love them!
Here are some tips for parents:
Don't waste your emotional energy on self blame. You may have experienced negative experiences where people shame or blame you for your child's behaviors. Remember, ADHD is not a result of poor parenting. ADHD is a behavioral condition that has to do with the structure of your child's brain. When you feel overwhelmed, take a moment to breathe and remember your child's love at the center of it all. You can join a support group and seek professional help to ensure you are your best self for your child. There are also lots of social media sites that you may find helpful.
Educate yourself and become your child's best advocate. The best way to help your child is to take time to learn all you can about ADHD. Know how ADHD specifically affects your child, as every child is different, and be able to speak up for your child's rights! Here are some common ADHD myths that you may find helpful:
As co-parents, the best thing you can do for your child is to communicate and cooperate because, at the end of the day, you love your child above all else and your child loves both of their parents. To learn more about October ADHD Awareness Month check out the official ADHD Awareness website!