What can we find for you?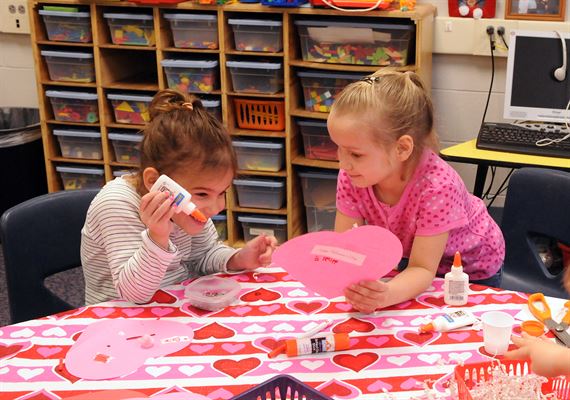 Whether your family is living in two homes or separated due to a military transition,

Valentine's Day may be a source of stress and sadness

. Children may be reminded that their parents are no longer together, or they may miss a deployed parent more than ever. Regardless of your family situation, this Valentine's Day, make sure to spend some one-on-one time with the most important people in your life – your children!
Below are some helpful tips to
show your children that they are – and will always be – your Valentine
!



Go on a date!

Go on a "date" with your child for Valentine's Day! Dress up and go to a restaurant, go to the park and eat ice-cream, or stay in and watch a movie. Spend that one-on-one time with each of your children (without other children or your significant other, if you have one). If you have multiple children, enjoy a favorite game together or make popcorn and watch movies in your pajamas. If your child is not with you on the actual Valentine's Day, plan your date for another time in February. Your children will love this special time! Remember, when enjoying your time with your children this Valentine's Day, take the opportunity to explain that Valentine's Day is a day to celebrate all kinds of love and that THEY are loved by YOU!



Make valentines!

Make valentines WITH your child! Encouraging your child to make valentines for people they love (including their other parent) will show them to be generous with their love. Help them create lists of everyone they want to send a Valentine's wish and remember to include all their grandparents, aunts, uncles, and extended family members, regardless of how you may feel about these family members. If your children are writing names on Valentine's Day cards for classmates, do it together! Ask your child about their classmates so they can tell you stories. Have them write the names on the cards and place stickers or other fun decorations. Or you can make special valentines from scratch for the special people in their lives! The key is to make the valentines WITH your children so that you lead by example and enjoy the activity with them!
Children love seeing their parents getting along and being happy together. So if hanging out together on Valentine's Day is about family time, then 

spending time together

 may be a great way to role model healthy family relationships. However, unless you and your co-parent are getting back together; refrain from using the word "date" if you go out as a family. Using words like "let's go on a date" may confuse your children and give false hope that their parents will be getting back together. If there is a lot of conflict, it may be best to enjoy the holiday separately by doing things with your children when they are with you.
For military families, if your spouse is deployed or away from the family for any reason, honor the parent-child relationship by helping your children 

make special Valentine's Day cards for their other parent

. When children learn to embrace military-related separations and to cherish their other parent during holidays, they learn that separation is temporary and that love lasts forever.
Whether you and your children are experiencing a family separation, divorce, or military-related separation this Valentine's Day,
make sure that your children know that YOU love them and that THEY will always be your Valentine.