What can we find for you?
Tricks (or Treats!) for Co-Parenting on Halloween
Halloween is quickly approaching which means lots of sweet treats, crazy costumes, and family fun! However, if your family is experiencing divorce, Halloween may also be a stressful time as it starts the difficult question of, "how do we share the kids for the holidays?". Whatever the decision there is not one parent who wins or loses! Your whole family can have a fun and spooktacular Halloween with these tricks to co-parenting on Halloween!
Being able to both accompany your children as they trick-or-treat is ideal for children in divorced families. If you choose to share the night together, here are some tricks to remember:
Being around your co-parent can bring out complicated thoughts and feelings. Despite these emotions, remember that successful co-parenting occurs when each parent values how important it is to put their child first! Take time to listen to what your child wants to do. Maybe they want to trick-or-treat with their friends, or dress up and parade around the house. Halloween is a holiday for the kids to have fun! If it's possible, for the one night, put aside your own feelings and make decisions with your child in mind first.
2. Make decisions ahead of time.
One of the most important things to avoid on Halloween is arguing in front of your children. Show your children that you and your co-parent can cooperate! This means that you'll want to figure out how the night will go ahead of time. Things to consider are what time you'll meet up, what neighborhood you'll be going to, how long you'll stay out for, and who your child goes home with at the end of the night. Making these decisions ahead of time will help make the rest of the night flow smoothly!
Children pick up on tension and stress easily, so it is important for you to relax and enjoy the night as well! Take pictures of your child in their costume, hold their hand as you walk around, and simply let yourself enjoy the quality time you are getting with your child. Yes, your co-parent may be with you as well but that does not have to change the fun that your child has, or that you have. By doing this, you send a message to your child that says, "We love you and are committed to making you happy! We can put aside our issues for you."
Not all cases are the same, so if you would rather choose to split the day or alternate which of you is with the children each year, here are some ideas on how to handle your Halloween:
1. Leave the Choosing to the Parents
Do not force your child to choose between one parent or the other. Putting your child in the position of choosing parents can be emotionally distressing so do not set them up for disappointment or unnecessary stress. Your child comes from both you and your co-parent, so they love you both! Talk to your co-parent to decide who will have your child at what time/year/days. If this seems difficult, you can always reach out for professional help!
2. Create new traditions!
Just because you do not have your kids on Halloween night does not mean the fun ends. Create a new tradition with your kids! Halloween events occur throughout all of October. Maybe your business throws a Halloween party that you can take your kids to? Does your community host any trunk or treat events, or pumpkin patches? Could you find a day to watch Halloween movies and decorate the house together? Halloween is not limited to one day. Your child will feel lucky that they get to celebrate Halloween more than once, and you will both get to bond during this quality time together!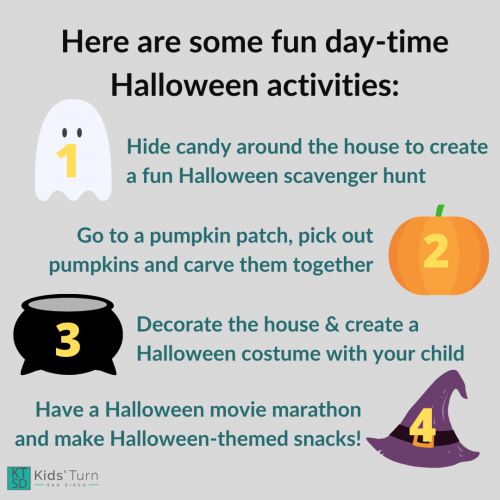 Send photos of your children in their costumes to your co-parent. Let your children know you are doing this, as it is a kind gesture that will feel good to your children. If you're the parent getting the picture, when you see your children, make sure you tell them how much you loved their costume! Stay engaged with your child and ask them about how the night went or what their favorite parts were. These simple actions can help your children feel more comfortable and confident about your family's divorce because they'll know you are still part of their life.
We hope these tricks help make Halloween a treat for your entire family! Remember that using a creative and kid centered approach to sharing holidays can make even the most complicated situations a success. Happy Halloween!
It's Thanksgiving already! This year has flown by and also seemed sooo long! We encourage you to take some time and notice the beauty in everything around you.
Among all the uncertainty, focus your energy on what you can control and be thankful for all of it! We invite you to reflect and appreciate. Create Thanksgiving memories with your children that they will remember forever.
No matter what your holiday plans are, this will be a Thanksgiving like none other. 
Traditional Thanksgiving gatherings with family and friends are fun but can increase the chances of getting sick or spreading COVID-19. Here are some ways to help everyone stay safe and healthy.
The safest way to celebrate Thanksgiving this year is to celebrate with people in your household. If you do plan to spend Thanksgiving with people outside your household, take steps to help make your celebration safer.
Hosting a Thanksgiving gathering
If you are having guests in your home, before they arrive, ask them to agree to take steps to keep your Thanksgiving celebration as safe as possible. Ask guests to wear masks, to wash hands frequently and to maintain a social distance of at least 6 feet.
Other steps you can take include:
Have a small, distanced outdoor meal with family and friends.
Limit the number of guests and follow state guidelines.
Have conversations with guests ahead of time to set expectations for safely celebrating together.
Clean and disinfect frequently touched surfaces and items between use, and do not share utensils or serving spoons.
If celebrating indoors, make sure to open windows to circulate fresh air.
Limit the number of people in food preparation areas.
Have guests bring their own food and drinks.
If you are sharing food, have one person serve food and use single-use options, like plastic utensils.
To review Thanksgiving guidelines from the Centers for Disease Control and Prevention (CDC), click here.
Prefer not to gather? Here are some alternate ways to celebrate.
Try a virtual Zoom or FaceTime Thanksgiving with family and friends who are far away.
Enjoy the holiday with a special celebration with members of your household.
Watch a holiday movie with your household or plan a virtual Watch Party.
Call family members, especially grandparents, and share what you are all thankful for this season.
Make family Thanksgiving posters and drive to family homes, honking the horn, so they come out and see your posters while you stay in your car.
Activities with the family
Play a gratitude game where each person writes down what they are thankful for and shares it with other family members.
Get ideas for Thanksgiving games and activities from online or download printables to do together.
Click here for a printable conversation starter game to play at family table or even virtually.
Happy Thanksgiving from Kids' Turn San Diego!