What can we find for you?
Kids' Turn San Diego Honors our First Responder Heroes!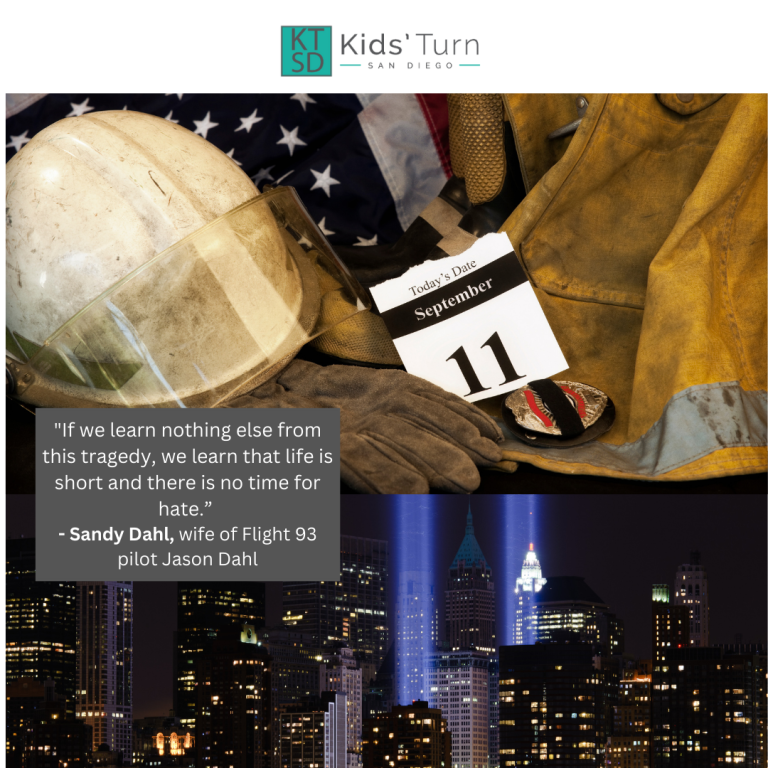 September 11th marks a moment in American History where First Responders fought bravely to protect our nation. Firefighters, Policemen, Emergency Medical Technicians and others worked day and night to support our community while sacrificing their own safety.
They are fearless.
They are selfless.
And many are parents.
At Kids' Turn San Diego, we appreciate and respect the work that First Responders do and understand that this may come with the cost of stress on their own families. We recognize that their sacrifices in the line of duty can, at times, affect their relationships with their spouses, co-parents and children.
KTSD is excited to announce the launch of a new program to support First Responders and their families.
Our new program will protect and support First Responder families by teaching strategies that can reduce conflict, increase communication and improve parent-child, parenting and co-parenting relationships. KTSD recognizes…
The Reality: Schedules of First Responder families can be challenging. Between long shifts and family obligations, there can be moments of feeling overwhelmed, burnt out and stressed out.                                                                                                                                                                                                  Imagine: Instead of feeling these ways, you have a family where you compromise, communicate and feel confident about being a parent.
The Reality: Communication can be difficult for all families and can cause moments of friction where feelings can be hurt. Many First Responder families escape these conversations because they are oftentimes pulled away from family time without much notice.                                                                Imagine: Instead of feeling left out or like an outsider in your own family, your family has communication systems and rules in place that facilitate the sharing of feelings and are inclusive of all family members, whether they are present or not.
The Reality: Life is busy, and it can be demanding to balance and prioritize work and family commitments. As a First Responder family, sometimes parents run around anxious or frantic from life threatening situations to attending after school activities like ballet or little league.                                        Imagine: Instead of feeling unbalanced from your career and home obligations, your family can create back up plans that foster communication and collaboration.
Kids Turn San Diego is committed to support our First Responders and our community by taking care of what matters most, Their Family!
PS. If you are a member of a First Responder Family, we invite you to be part of our first class and to help us name our program and fine tune it. If you would like to join or find out more information, please contact Yulian@kidsturnsd.org .