What can we find for you?
Research shows that the human brain is about 90% developed by the age of 3 and recent studies have shown that the brain continues to grow and develop and undergoes a growth spurt in the teen years, with full development around the age of 25 or 26 (https://www.sharecare.com/health/brain/when-human-brain-stop-growing).
The brain growth spurt was alive and in action in our most recent Family Workshop Teen Group! In this program, the teens learn skills, strategies and techniques to better communicate with their parents and to better manage themselves within their families. They offered a profound message to all teens who are experiencing a family separation or divorce.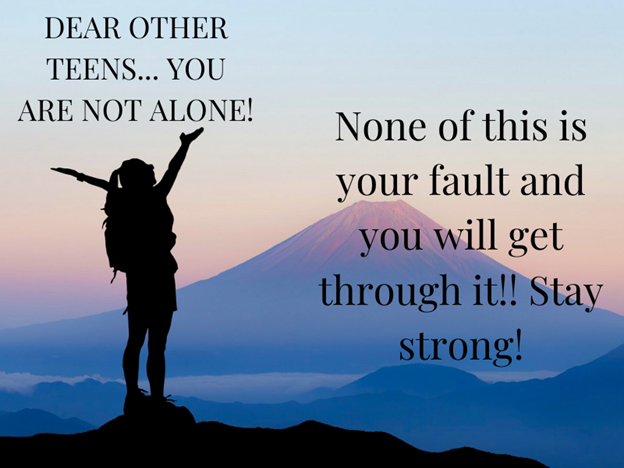 If you have a teenager, please share this message. If you have a child of any age, please pay attention.
What are the teens who created this poster saying to the parents in their lives?
          This may be surprising to you, but children oftentimes blame themselves for their parents' divorce and/or behaviors. They do not typically say this aloud, but it is an unconscious thought that lingers and eats away at their emotional well-being. And sadly, many parents who have been divorced for years, continue to argue like when they were married. Why is this? Younger children have no idea but wish every day and every moment that their parents would stop arguing and would just get along. This message is heard loud and clear through our Family Workshop program theme "Your children want you to put your differences aside and be kind people in front of them, if not for you, for them". These are not the words of this writer but instead are real words that children in our Family Workshop told us.
Honestly, if parents think that their decisions and choices to remain in and continue conflict with their children's other parent is not impacting their children, we hope this blog will shed some light on a new reality. When parents are divorced and they continue to argue, fight, be mean to each other or say bad things about each other, it is harmful to the emotional well-being of their children.
Shifting back to the teens, their wish is the same as the younger children, but their message is stronger. Teens think their parents like arguing with each other and really wish they could get along when they are together in front of them. When together at events, teens in our programs want their parents to get along and if they can't, the teens want their parents to fake it for them so they don't need to be embarrassed by their parents' behaviors or feel like a jumping bean going from one side of the room to the other so they get to be with both of their parents.
Again, this is real! If you think we are making this up, take a look at the poster the teens created for other teens. 
"DEAR OTHER TEENS… YOU ARE NOT ALONE! None of this is your fault and you will get through it!! Stay strong!"
I reflect and wonder… Why do teens need to tell other teens that they will get through it? What are they needing to get through and why do they need to be strong?
Divorce is an adult decision to no longer be in an emotional relationship, to no longer live in the same home, to no longer gather together with friends and family, to no longer parent your children under one roof. When done well, parents live in two homes, they adjust their quality of living to a new reality of the family income now needs to pay for two of everything, they hurt and grieve but share their feelings with support systems other than their children, they silence themselves and others so there are no negative words being said about their children's other parent, they collaborate on the custody time and are flexible when needed, they attend their children's events (no matter what) and they grieve, forgive and move on.
When not done well, parents get stuck. They continue to refer to the other parent as an "ex", representing the emotional connection with someone they were intimate with at some time, they sometimes bad mouth the other parent, and oftentimes, their anger grows instead of diminishing. Many ask us, "Why is this happening?, Why are they doing this?" The honest answer is I don't know. But from our experience, divorce has stages and many parents tend to skip them. The first stage seems to be the decision to separate and divorce, the second stage is filing the papers and beginning the legal process, the next few stages include moves, new homes, new schools for children, lots of decisions and experiencing the many losses that arise but were unanticipated. Losses? The loss of one's social support system, as married couples tend to lose interest in their divorced friends or they just can't decide who to be friends with, so they choose neither. The loss of extended family. The loss of family dinners. The loss of good night hugs and bedtime routines with your children. The loss of morning activities. The loss of your children for half the week.
Divorce may be a painful process but may be a little less complicated and easier on your children if you go through the process with grace, compassion and gratitude. Easier said than done, but very important! As the teens are telling other teens, we share a similar message with parents, "Dear Parents, YOU ARE NOT ALONE! You will get through your divorce by feeling every feeling, accepting your losses and moving through your grief to forgiveness and acceptance. Take the time to be good to yourself. Nurture yourself and remember to be your best at all times, if not for you, then for your children. And remember, YOU ARE NOT ALONE! If you need support, Reach out to Kids' Turn San Diego. We're here to support you!